Welcome to the Official Wiki of Easysites Multimedia Productions
The Easysites Multimedia Wiki is an editable archive/encyclopedia of our various projects that anyone can edit. This format allows members of our community to contribute to us. To start out, Please look at one of our links on the side, or hit the Random Page Button. Wanna Join in the fun? Click the "Log In" Link at the top to sign up!
Add An Article!
To Contribute, Submit and Article Below!
Bulletins: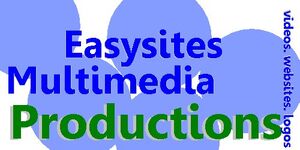 New pages
Characters:
Blog Postings:
Create blog post
Latest Blog Posts
Yes, that is right. As of a few minutes ago, we decided to open our wiki to the public. We welcome all people to edit any and all of our projects. If…

Read more >
See more >